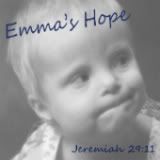 Please stand in prayer with many of us today for sweet Emma. See, today is the first surgery for her to be on the road to a lengthy life. She was born in Ukraine and spent the first 5 yrs in an orphanage with little to NO stimulation. She was born with a very severe heart condition and it went untreated until her forever family brought her home to the US in March. I had done a blog about the Cornish family several months back while they were in Ukraine, trying so hard to get their children.....so her story may seem familiar to many of you.

Today Emma will have her tonsils and adnoids removed, and then when she heals she will have open heart surgery. Emma having the T & A surgery today, are in hopes for better breathing and oxygenation and that it will improve her chances of a having a sucessfull open heart surgery.

If you click on the above picture of Emma, you can follow their story! So please pray for Emma today. Her surgery is scheduled for 9:30.