Last night around 4:30, while I was finishing up Giovanna's Tutu, Lyndsey was playing with the girls. They were so excited to have her home and even more excited I think to get their costume's on and head out to Trick n Treat!!!! Giovanna was playing on the ottoman and fell off backwards and hit her ear on the wood of the bay window....and POW! She busted her ear open and busted a blood vessel or something because it swelled up so big (like the boxer's ears when they get hit)! Scared me to death!!! I come running downstairs to get her and whew I was trying to not to panic! William hadn't made it home yet. I gave her Motrin and put a cold rag and ice on it and held her still. Once William got home I called the after hours Dr at the base and they said to take her in to the urgent care after hours clinic. LUCKILY for us it wasn't all that crowded....maybe 4 people in front of us. They cleaned off the blood, put some cream on it, gave us a prescription for antibiotics and some cream and sent us home. We were back home by 8pm. They told me to watch it and if it was to build up more blood to bring her back right away... I was so nervous!!!

THEN the Dr that we were seeing made me cry (after he walked out of the room!) He was an Indan Dr, very soften, kind but totally NO bed side manners! After he looked at Giovanna (from afar- he just looked and never touched her) and started to walk out the room, he turned around and pulled the door back closed....HHMMM....I was wondering what was going on....he then said to me "Does she have any other medical problems?" Well no not from her ear, she the busted ear, I said. Now my brain wheels are turning....what is he talking about....He starts to studder and was like, No I mean any thing else wrong with her....WELL NO I said, Just her busted ear...Still you could tell his question wasnt answered....puzzled he asks yet a third time....I then am like "Oh you mean her having Down Syndrome?" I did not think that was a chronic medical problem... "Yes, she has Down Syndrome and yes she has had open heart surgery and a few other surgeries but I assure you, she is fine!" He is still standing there with this puzzled look on his face because he sees clearly on her chart that she is adopted. He watches Giovanna sitting on the table looking at a magazine, and he looks right at me and says "Well, Intelectually, is she ok?" Well HEck yes she is OK! "Does she talk?" In my head Im thinking NO she grunts! I say to him, YES she talks, she loves school and plays alot! He is still staring at us both with this puzzled look...and says kinda quietly, Well where I come from (it is obvious INDIA) kids like her dont do anything, talk, walk, and you dont see them out and about like your daughter!!!! GUYS- I am just about to die! I wanted to be the strong advocate for my daughter and let the world (the DR) see that she can do everything any other child can do ...you just gotta give her a chance....BUT inside the tears were forming!!!!

I want so badly to jump on a plane and go to INDIA to bring home V and I know she will be aging out of her baby orphanage by next Oct IF NOT SOONER, and will be sent away....AWAY where no one ever will see her, where no one can finally welcome her in to their family!!!!! PLEASE stand in prayer with me....pray that the Lord will bring her FOREVER FAMILY (I still pray it is ours!) quickly.....please help sponsor children just like her all over the world that NEED and deserve to be a child just like my Giovanna (and Bella and Gabby) Please, give them a chance to live....a chance to grow... a chance to feel the love that only a mommy and daddy can give....give them a chance to know who Jesus is.... a chance to blossom into the beautiful children that our God designed them to be..... Go to Reece's Rainbow and see all the waiting children with Down syndrome from around the world....Sponsor them with as little as 1.00. By giving this unselfish gift, it will help their forever family commit to them and help with the extremely high international adoption expense!!!! PLEASE let these angels have a chance like my Giovanna. She too could have ended up just like the children this DR spoke about in his country!! I think it would have blown his mind if I would have told him that I also had 2 other daughters with Down Syndrome and best of all ONE of them is from INDIA! Do you think his puzzled look would have changed???

ITS NOT TOO EARLY TO THINK ABOUT YOUR CHRISTMAS LIST, your teacher gifts, the gifts for friends and family who are hard to buy for......when you visit Reeces Rainbow please click on the angel tree link....this will take you to our page that has all the children around the world, whose forever families HAVE NOT FOUND them yet, YES that means they ARE available for adoption, they need sponsors! By donating a TAX deductable gift of any amount you can help change the world of these orphans. If you make a donation of at least 35. you will get a ornament with the child's picture and a gift card. This will be mailed to the person you choose. What better gift this season to give someone than the gift if LIFE! Wont you join us and help bring these children home!!!

Click the link below to change a child's world forever!!!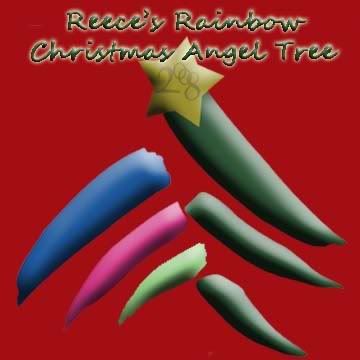 Grab This Button